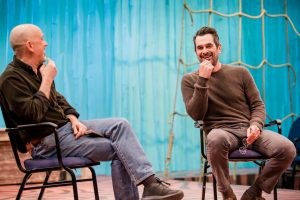 Ty Burrell, best known for his role as Phil Dunphy in the ABC sitcom Modern Family, visited the Department of Theatre Friday, March 30 to talk about his life and career in front of Theatre students, faculty, and staff.
ATP Head Chris DuVal joined him on the Babcock Theatre stage where Ty shared his views about preparation, commitment, and his perspective about acting.
Ty Burrell is a long time Utah actor and resident. He worked for both the Pioneer Theatre Company and Utah Shakespeare Festival before he developed fame in his current role in Modern Family. He is a theatre trained actor from Penn State and has worked in London, Broadway, and in many regional theatres across the country. Ty and Chris originally acted together in Cedar City in the late 90's and have remained close friends since that time.
Ty's wife, Holly is an alumna of our Actor Training Program. Ty and his wife Holly are valued supporters of the Department of Theatre at University of Utah.
Thanks for visiting and spending your morning with us!
Photo by Todd Collins Photos