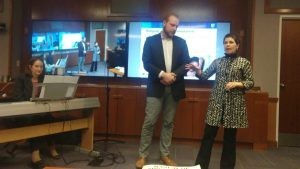 Musical Theatre Program students, Andy Harrison and Alice Ryan participated and performed at the 2018 Performance >Voice Confere nce sponsored by the University of Utah Voice Disorders Center on Saturday, April 7.
Both students participated in a masterclass and performed for keynote speaker Leda Scearce, a Singing Voice Rehabilitation Specialist from the Duke Voice Care Center. The students receive vocal instruction in the Department of Theatre from Assistant Professors Shalee Schmidt and Brian Manternach, D.Mus., and were able to attend the conference through Dr. Manternach's involvement on the conference planning committee.
University of Utah Health Care presented the Performance Voice Conference in celebration of World Voice Day. Physicians, otolaryngologists, speech language pathologists, vocal coaches, voice instructors, faculty and students were invited to join for a day of instruction and collaboration with nationally and internationally acclaimed voice professionals.
Attendees learned about the science behind clinical and pedagogical approaches to prevent or care for voice problems affecting performing artists. Topics included the effect of medications, hydration, and voice rest on voice function and recovery after injury. Speakers offered scientific and clinical expertise including laryngology, speech-language pathology, vocal coaching and voice science The Department of Theatre is a sponsor of the conference along with the National Center for Voice & Speech, the University of Utah Communication Sciences and Disorders, and other college Communication Sciences & Disorders departments in the state of Utah.