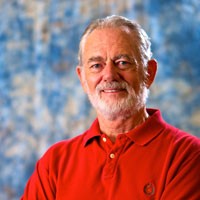 Professor William "Bill" Parkinson has been teaching Yoga, Tai Chi, Meditation and Movement at the University of Utah since 1974. This summer, he will be retiring after teaching over 10,000 students during his career at the University of Utah.
Bill graduated from the University of Utah Department of Philosophy in 1972. He was initiated into the Ananda Marga International Yoga Society in 1970, receiving the title Yogi Viirishwara in 1974. He implemented Utah's first accredited college courses in Tai Chi and Yoga at Westminster College from 1972 to 1974. He began teaching Tai Chi for the University of Utah Modern Dance Department in 1974. He has taught Tai Chi and Yoga for the Exercise and Sports Science Department since 1979, and for the Department of Theatre since 1987.
Bill is listed as an Experienced Registered Yoga Teacher of the highest level (5,000+ hours of teaching experience) with the nationally accredited Yoga Alliance. He is a Tai Chi Chuan Master who is authorized to administer teacher-training and certification in both Tai Chi and Yoga. He has sponsored World Tai Chi Day at the University of Utah since 2002. This free event invites people of all ages and physical conditions to learn and practice different Chinese forms of exercise. He has been recognized by Governors Mike Leavitt, John Huntsman and Gary Herbert for his leadership of World Tai Chi Day (WTCD). WTCD has been declared a state holiday.
After his retirement, Bill will continue to teach his craft at a local Yoga and Tai Chi studio in Salt Lake City.
Please join us for a midday celebration to honor Bill for his decades of service and accomplishments at the University of Utah on June 20, at 12:00 p.m. in the Performing Arts Building.