Racism. Hate crimes. Love. Islam. Culture. Language. Life. Five Muslim women in a post-9/11 world serve tea and uncover what lies beneath the veil in this critically acclaimed one-woman show.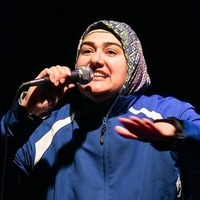 Photo by Sadaf Syed.
Adjunct Assistant Professor of Theatre and Adjunct Instructor of Gender Studies, Lynn Deboeck has helped in the coordination to bring Rohina Malik, a Chicago-based playwright and solo-performer to the University of Utah campus to perform her piece, Unveiled at the Post Theatre on Friday, October 19 at 7:00 p.m and Saturday, October 20 at 1:00 p.m. This event is free and open to the public.
Unveiled, has been presented at theaters in the United States, Canada and in the summer of 2016 in South Africa. Rohina has performed the play at the 16th Street Theater, Victory Gardens Theater, Next Theater, Brava Theater, Crossroads Theater, Muslim Fest in Canada, Theater project, Baltimore, Voyage Theater Company NYC and Silk Road Rising.
Unveiled has also been presented at Princeton University, Yale University, NYU, University of Chicago, Stanford University, DePaul University, Loyola University, College of the Atlantic, Bates College, St. Mary's College, UC Irvine, UC Santa Barbara, UC Davis, Oklahoma State University, University of Wyoming, Brigham Young University, College of New Jersey, Washington University, Fordham University, UW Osh Kosh, Concordia University, La Verne University, and many more. Rohina has been invited to perform Unveiled at Universities, Churches, Mosques, Synagogues and Theaters. She was awarded the Y award with the Evanston YWCA for her work to end racism.
---
​ Praise for Unveiled
"Rohina Malik, the hugely talented writer-actress at the center of the Victory Gardens solo show "Unveiled," is a remarkable new theatrical voice in Chicago. In her rich, upbeat and very enjoyable 70-minute collection of five character studies of Muslim women in modern-day America, Malik gives voice to characters from whom we hear far too little in the theater." -- Chris Jones, Chicago Tribune.
A "terrific show... intellectually engrossing work of theater" -- Nina Metz, Chicago Tribune
"Unveiled offers a provocative, insightful and uplifting theater experience." -- Tom Witom, Pioneer Press
"Powerful solo show... five riveting tales of Muslim women" -- Jack Helbig, Chicago Reader
"A compelling 70-minute piece rich with illuminating surprises, drawing the audience into worlds that are both unique and truly universal. It is terrifically entertaining. -- Catey Sullivan, Chicago Examiner
"Rohina's little masterpiece will further open our eyes" -- Alan Bresloff, Steadstyle Chicago
"The stories are important, to be sure, but the cumulative effect is weighty." -- Web Behrens, Chicago Free Press.
"She creates five characters on stage.....I shed a tear or two....Works like this do their bit to bring about peace and harmony and counter hate. I wish this could visit every school, every church, every mosque, every temple in the country." -- Moira de Swardt
"One of the most awaited performances of the 2016 National Arts Festival was Unveiled, written by internationally-acclaimed playwright and actress Rohina Malik.​... Unveiled was written in response to the 9/11 attacks in America and is one of the bravest and uplifting experiences I have ever had."-- Khinali Bagwandeen
"Unveiled is a provocative piece of theatre, rich with enlightening surprises that draw the audience into a unique but yet universal world." -- Carol Kagezi​