So, I made a thing. A year ago I was beginning to write the grant for this project. I had seen Remote Mitte by Rimini Protokoll earlier that year in Berlin, and I was really interested in audio tours as an immersive, theatrical experiment. I wrote about re-contextualizing locales, sharing stories dismissed by ageism, engaging people with my city, and, with the help of Robert Scott Smith, I got the grant.
In December of 2017, I sent out flyers to every assisted living facility in Salt Lake, calling for storytelling volunteers. I got one reply. This tour is a collection of his stories. Along the way, equipment broke, feelings got hurt, and publishing platforms disappeared into the ether after being acquired by massive speaker companies (I'M LOOKING AT YOU BOSE). But my friends and faculty were always there to work through the hiccups, and that was pretty flipp'n awesome. Special thanks to Benjamin Young and Alexander Woods.
This tour isn't perfect. But it's personal, political. And it's probably not like any other audio tour you'll be listening to in the near future. So go out there and get to know my city.
by Emily Nash, student in the Actor Training Program
---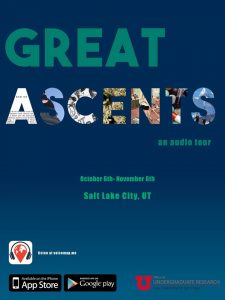 Great Ascents
By Emily Nash Available on VoiceMap Audio Tour Oct. 6-Nov. 6, 2018
Audio Tour: Great Ascents was made possible by a University of Utah Undergraduate Research Opportunities Program (UROP) grant. UROP provides undergraduate students and mentors the opportunity to work together on research or creative projects. To find out more about how to apply for a UROP grant, visit: our.utah.edu/urop/
---
---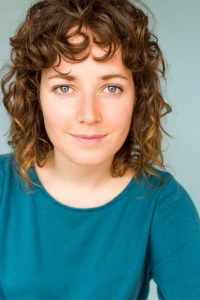 About Emily Nash She is a senior in the ATP. Currently she's the assistant director of Julius Caesar in Studio 115 at the University of Utah. She is also finishing her massage therapy certification, and lurking, "whoops I mean interning," at Pioneer Theatre Company. Favorite roles include
Maria in Up: The Man in the Flying Chair (Studio 115), Player in Shockheaded Peter (Sackerson), and Carmen in This Girl Laughs, This Girl Cries, This Girl Does Nothing (Arizona State University). Next up you'll see her in The Rivals in the Babcock Theatre. Lots of love to her friends and family for supporting her shenanigans.