Julie Jensen, Playwright | Phone interview with Aaron Swenson
Aaron: I think we should probably start with a quick origin story—when and how you met, and then go from there?
Julie: Well, I first knew Bob when I was a professor at UNLV, running the playwriting program. And Bob was affiliated [with KCACTF], as he has been for a long time. He's been a faithful member of that organization, encouraging new plays around the state and beyond. He's always been a fabulous advocate for new plays. I started working at SLAC after I left UNLV. Bob was still down at BYU, but he was a constant presence in theaters all around the city. Shortly thereafter he became the chair up here [at the University of Utah]. He was in a ton of stuff [as an actor], including a play of mine at SLAC called Winter, and I used to be a guest in his classes all the time, particularly his dramaturgy classes. We just followed each other. And he's been a good friend—he's a personal friend, he's a professional friend, and he's somebody I really admire. It was, and has been, really rewarding. I like him a lot. I really do.
Now, you're coming at this from a unique perspective because you know Bob not only as an educator, but also as a theatre practitioner, as an actor…
Oh yeah. Yeah. I've seen him do a lot of stuff and he's been in plays of mine. He's a good citizen—that's all you can say. A really good citizen and a really nice actor. I'd seen him in a lot of stuff, but I didn't know how easy he was to work with. I had imagined he would be, but he's a fabulous contributor to the group: dedicated, hardworking, disciplined. He's a good man.
What would you say is the essential "Bob-ness" that he brings to both his acting and to his work as an educator? Like, if it's a Venn diagram, what's the overlap between those two circles?
He's very thoughtful, and always well-prepared—he's not thinking, "I'll just figure it out when I get there." He helped me develop some of the plays that he wasn't in, because he knows plays inside and out, especially new plays. He cares about them, and he wants to be of use. It's not about him, it's about, "what's good for this play?" Or, "what's good for the next stage of this play?" And as you know, he's very congenial and easy and calm, which is incredibly reassuring: If you're a nervous actor, he's reassuring; if you're a nervous student, he's reassuring. Then there's the intellectual acumen, the discipline…it's kind of a big package.
I've seen Winter done a number of other times, and Bob was absolutely the best one that ever did [that role]. He would ask interesting questions, and that would illuminate things about the play that, maybe, you hadn't even thought of. He just brought a very clear, well-founded interpretation of that character. And he did it without straining or a lot of anxiety or anything like that. Great art always looks easy, and, God bless it, it should, but for a lot of us there's a big struggle. It never was a struggle for him. He did a lovely job.
And the other actors all did their best work with him. It wasn't like, "Oh, the brilliance of this man inspires me this way." It's the confidence that he gave you: you could do your best work because it was safe. He was absolutely reliable. You knew that he was in the scene with you. He wasn't flaking out, he wasn't wandering around in his head, he was right there. And that allowed you and the other actors to be as good as they could possibly be.
That's the greatest compliment I could give any actor, that you share that space and scene. And sharing means a lot more than just occupying the same space—you have to take care of the other people around you, because you're all struggling together to arrive at something that's a performance. He was always very good at that.
Something you just mentioned overlapped with my conversation with Tim Slover, about Bob's ability to ask great questions. I was wondering if you could recall any specific questions, or just the kinds of questions he would ask?
[Laughs] Well, it's been a while. When I was guest-teaching in his class he would always let students ask questions, but if they really needed a goose, or if the really good questions hadn't been asked, he would find ways to filter them in. And they were always challenging: "why is this play important," and "what is important about it to you," of course, but also questions like "how does the structure work in this play? Tell us about how you built this play, the process of its making." I don't know if he considers himself a writer, but he asks questions like somebody who has written plays, who knows what it feels like to write a play and how vulnerable you are, and how anxious. And he allays that. He asks questions that dig into what the writer might know or bring to the discussion. It's more than just "what's this play about?" He's asking you what it means to have made it.
Would it be fair to say that his work an actor and a director has made him more empathetic to all aspects of the process?
Oh, unquestionably. When you're past the age of most of the students' parents, it's really easy to sit back and say, "Back in the day, those were the good days," you know? Like, "here's my discussion of [Eugene] O'Neill and here's one on [Tennessee] Williams, and the rest of 'em, you know, damn 'em." [laughter] And not for one minute was he like that. He really supports new work, and he really supports theatre in Utah. He's responsible in so many ways for contributing to the active theatre scene in this area—from being an actor, to directing, to attending, to simply caring and passing that on. You'd be at a play of yours you had forgotten to tell him about, and there he was. He cares. He cares.
That feels like a very nice lead-in to my last question—what do you see as the most important part of Bob's legacy? What do we need to remember, or learn from him, or try to preserve?
Well, I would hope that whomever replaces him would be equally committed to local theatre, because it's important for all of us. The relationship between the community and the university needs that kind of connection and cross-pollination. We have to [stay connected]. It's just unthinkable if we don't, because we are all vulnerable. It takes all of us to make this work. Many people understand that, but it's easy to isolate. When you've got your salary and you know you're going to direct your two plays and teach your classes or whatever, you don't have to worry about it. But Bob never thought about it like that.
I'm really grateful for his tying those two worlds together, and I hope that continues. He's just a gentleman. Great, great spirit. I loved working with him. I would work with him again, anytime. Anytime.
*****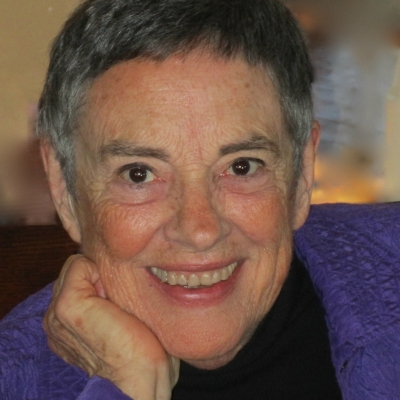 Julie Jensen has been writing plays for more than 30 years, including Two-Headed, Last Lists of My Mad Mother, Dust Eaters, WAIT!, The Harvey Girls and Mockingbird. More than two dozen of her plays have been professionally produced in Europe, London, New York and theatres nationwide. Her work has won a dozen awards, among them the Kennedy Center Award for New American Plays, the Joseph Jefferson Award for Best New Work, the LA Weekly Award for Best New Play, the Edgerton Foundation's New American Plays Award and the David Mark Cohen National Playwriting Award. Jensen has been the recipient of the McKnight National Playwriting Fellowship, a TCG/NEA Playwriting Residency, a major grant from Pew Charitable Trusts and the National New Play Network's Rolling World Premiere. Her work has been commissioned by a dozen theatres including the Kennedy Center, Actors Theatre of Louisville and Salt Lake Acting Company. She has taught playwriting at five universities, directed a graduate program in playwriting and published a book on the craft titled Playwriting, Brief & Brilliant. She has been a resident playwright at Salt Lake Acting Company, a member of the College of Fellows of the American Theatre and a former regional representative for the Dramatists Guild. Her work is published by Dramatists Play Service, Dramatic Publishing, and Smith and Krause.