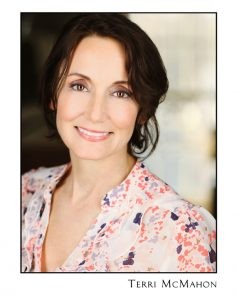 Terri McMahon from Oregon Shakespeare Festival joined us this fall to direct Shakespeare's sophisticated early comedy, Love's Labour's Lost, showing in Studio 115 October 20-29.
Terri has been an artist at the Oregon Shakespeare Festival for over 25 years acting in nearly 50 productions playing over 75 roles from Shakespeare, Moliere and Ibsen to new works by Robert Schenkkan and Lynn Nottage. She has directed as well as adapted OSF School Visit Program touring performances; devised an OSF Green Show called Give It Up for Elizabethan-ness; directed OSF staged readings and has both acted and directed multiple times in OSF's The Black Swan Lab for new play development. She wrote and directed Sweetly Writ, a collaboration between OSF and the University of Oregon which played at the Hult Center in Eugene celebrating the University's Shakespeare First Folio Exhibition.
In addition to her classical work, Terri is sought after for developing new plays, both as director and actress, and has collaborated with numerous award-winning contemporary playwrights. Her extensive teaching career spans from third-grade arts education students to professionals working on high-performance communication. During her time at the U, she was been working closely with the cast members of Love's Labour's Lost to perform Shakespeare as authentically as possible. "We looked at Shakespeare language support books that define every word in every play, sonnet, and narrative poem that he wrote," Terri said, "After you have performed Shakespeare, almost any other playwright can seem so much easier because of the workout your brain, your vocal apparatus and your ability to sustain long difficult thoughts has offered you with Shakespeare."
Through witty and playful banter, Love's Labour's Lost tells the story of the King of Navarre and his three court followers, who swear they will speak to no women during their three-year "academy" study period. But the instant they take that vow, the Princess of France arrives with her three captivating female attendants, and all bets are off.
Guest Director Terri McMahon says, "Love's Labour's Lost has more sexual innuendo, more puns (just under 200), and more triple layers of philosophical meanings on top of the puns' double meanings, that Shakespeare manages to out-funny bone any YouTube trender." Terri says that Shakespeare humor "has endured because when an actor understands the joke inherent in the language and their need for their character to say it, the same kind of builds, pauses, and punch line deliveries span the centuries. Watch Jim Gaffigan. You'll see a Shakespeare standup clown."
Buy tickets for Love's Labour's Lost
By Adam Griffiths, CFA Grad Assistantand Josiane Dubois