By Guest Writer and Emerging Leaders Ambassador, Ashley Chin-Mark.
Photos courtesy of Alex Vermillion.
Arguably, one of the major concerns of contemporary society is that the Millennial Generation is becoming increasingly removed from the human experience and losing the ability to form meaningful interactions. However, the progressive work of University of Utah English and Theater alumnus, Alex Vermillion, is shattering that perception by engaging the community and captivating new audiences through bold actions and meaningful language.
An advocate for gender free roles, Vermillion (ze/zir/zirs) has made it zer mission to advocate for free gender roles and a transgender individual, Vermillion is addressed with Ze/Zir/Zirs. Ze has made it zer mission to "represent less recognized communities" and "portray voices that are less heard," through zir roles as a freelance Dramaturg, a Drag Queen, as the Communication Coordinator for the Utah Museum of Contemporary Art (UMOCA), and as the Editorial Intern/Writer/Contributor for the SLUG Magazine.
An accomplished educator and editor, Vermillion returned to the university last year to inspire students as the 2015 Humanities Department Convocation Speaker and, most recently, as the Dramaturg for the Theatre Department's modern adaptation of "The Two Noble Kinsmen." Ze explains zir interest in Shakespeare, "He really captures what humans are comprised of…[the nature of his work asks] 'Are you connecting with the audience?,' 'Are you playing the role?,' 'Are you having fun?'" For Vermillion, the fun is found in the bard's clever use of satire, which ze believes is "the best way to understand and relate to contemporary issues," and the major focus of zir work in "The Two Noble Kinsmen." Ze credits zir project mentor, Martine Kei-Green Rogers, in assisting zir research in the background of plays and forming an intimacy with the text.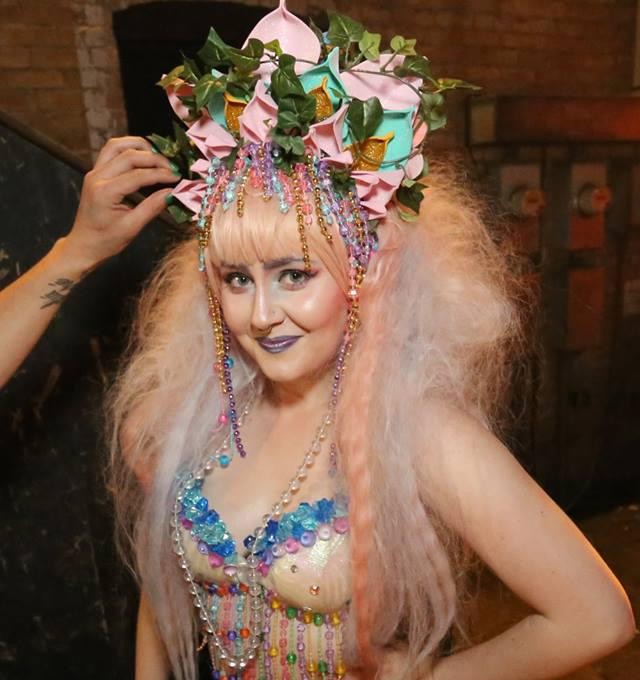 Vermillion divulged that ze "loves working with magic in plays," a staple in all of Shakespeare's works, and, as a self-proclaimed Marvel superhero nerd, ze derived additional inspiration from the comic book and gaming technology industries. Similar to theatrical production aspects, ze considers the technological aspects, mentioned in comics and used in games and films, a great avenue for mixing logic, creativity, and imagination." Alex Vermillion is accomplishing super feats. Through zir advising with "Out Loud," an artistic platform for youth voices in the LGBTQIA+ community at the UMOCA (created by Elly Baldwin, UMOCA's Curator of Public Engagement), ze develops inclusive programs for teens that help "students build positive social connections and share their experiences with others."
Recently admitted into the Yale School of Drama's Dramatic Criticism Masters Program, Vermillion plans to finish five years of intensive studies before opening an interactive, Queer Shakespeare Theatre complete with an underground Drag Show and Bar and a Homeless Center for Queer Youth with art education programs and performance opportunities. Of less represented populations, like the LGBTQ community, ze says, "We have to go to them, invite them in, and create a more inclusive environment by asking them, 'How can we accurately represent you?'" Vermillion will continue to use this power in a positive light to frame live performances, artistic projects, and journalism compositions as "community–oriented activities" that encourage individuality and self-expression.
Original article can be found at The Finer Points.