When Rosalind meets Orlando, the chemistry is undeniable. Their courtship will have to wait, however: almost immediately afterward, Rosalind is banished from court on pain of death. Meanwhile, Orlando returns home to find his own life in danger.
Accompanied by loyal cousin Celia and court jester Touchstone, Rosalind adopts the name "Ganymede" and travels in disguise to the Forest of Arden. When they discover that Orlando has fled to the same forest, Rosalind is delighted, but decides to stay disguised a little longer. Rosalind has a plan, you see, and it won't work without Ganymede's help.
Featuring one of theatre's wittiest protagonists, As You Like It is stuffed to the gills with the best the Bard has to offer. This classic comedy plays with traditional notions of romance and gender, featuring friends, family members, and would-be lovers forming triangles, quadrangles, and other arrangements that defy geometry. With an updated cut of Shakespeare's original script (and a few other surprises up its sleeve) our version of As You Like It is a raucous, joyful, musical celebration of the roles we play in life and love.
According to the melancholy Jaques in Shakespeare's As You Like It, "all the world's a stage."  Occasionally, however, the similarities between life and theatre are more than mere metaphor — for example, when producing a beloved Shakespeare comedy whose plot hinges on one of the decade's most hotly debated topics.
Gender and gender identity figure heavily into As You Like It, especially for protagonist Rosalind, who spends most of the play disguised as a young man named "Ganymede." As women were banned from performing in Elizabethan theatre, the role of Rosalind would originally have been played by a man — who would then be playing a woman masquerading as a man.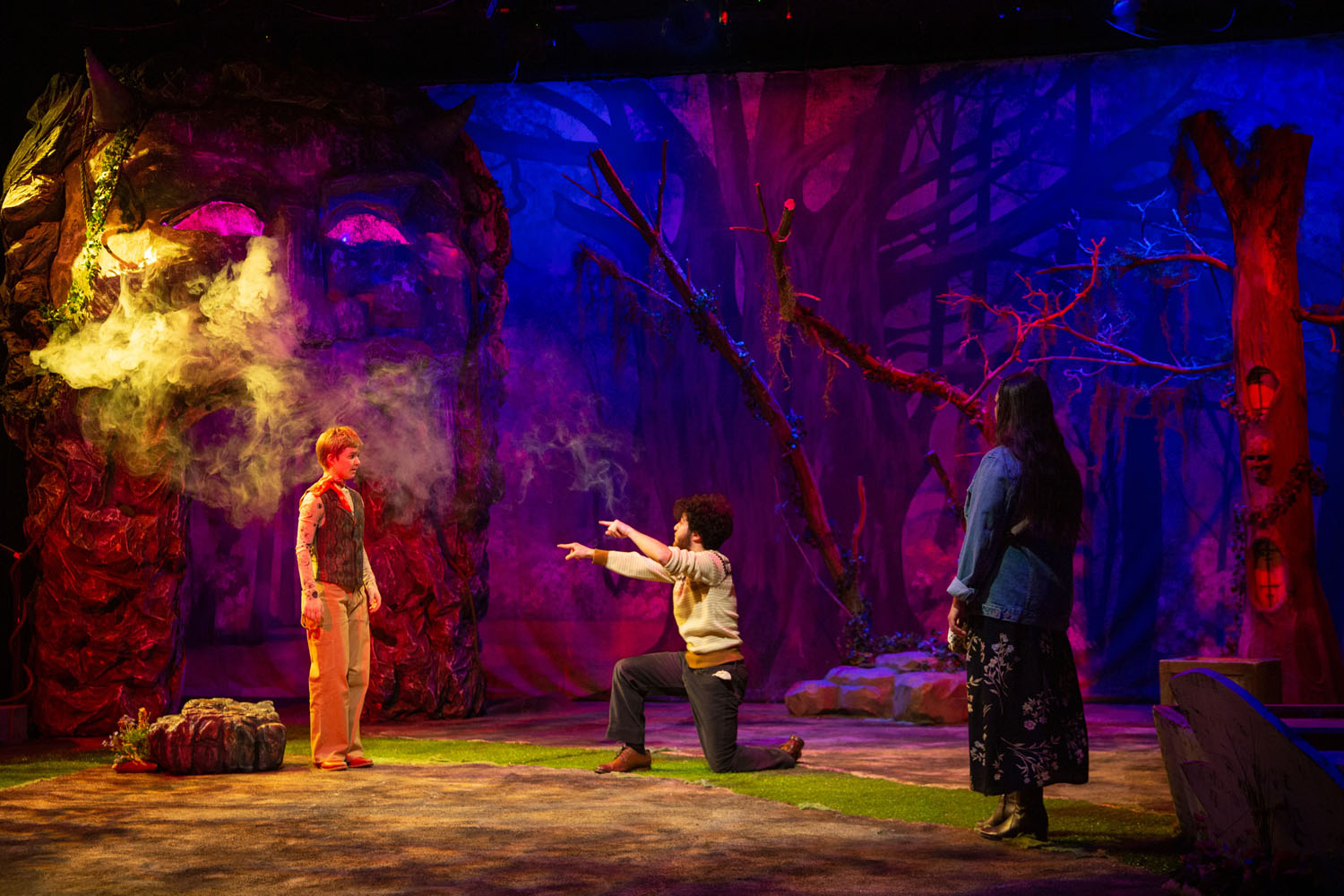 L-R: Camden Barrett, Tyler Michael Kline, Abyanna Wood
Photo by Todd Collins

This ambiguity arguably extends past performance and into the text. "It's interesting that the real love and connection with Orlando seems to happen while Rosalind is disguised as Ganymede, in that gender, with those pronouns," says director Robert Scott Smith, head of the U's Actor Training Program. "I personally feel that's when they fall in love. So I thought, 'well, how can we play with the binary? How can we play with gender? What options do we have?'"
One option Smith explored was removing gender identifications from audition breakdowns.
"I read for Rosalind, actually," recalls Caro Ciet, a junior in the ATP who identifies as nonbinary. "I remember reading a scene with Orlando, [Rosalind's] love interest. I assumed that I was probably going to be cast in a more feminine presenting role." Instead, Ciet was cast in the role of Jaques: a male-identified role in the original script.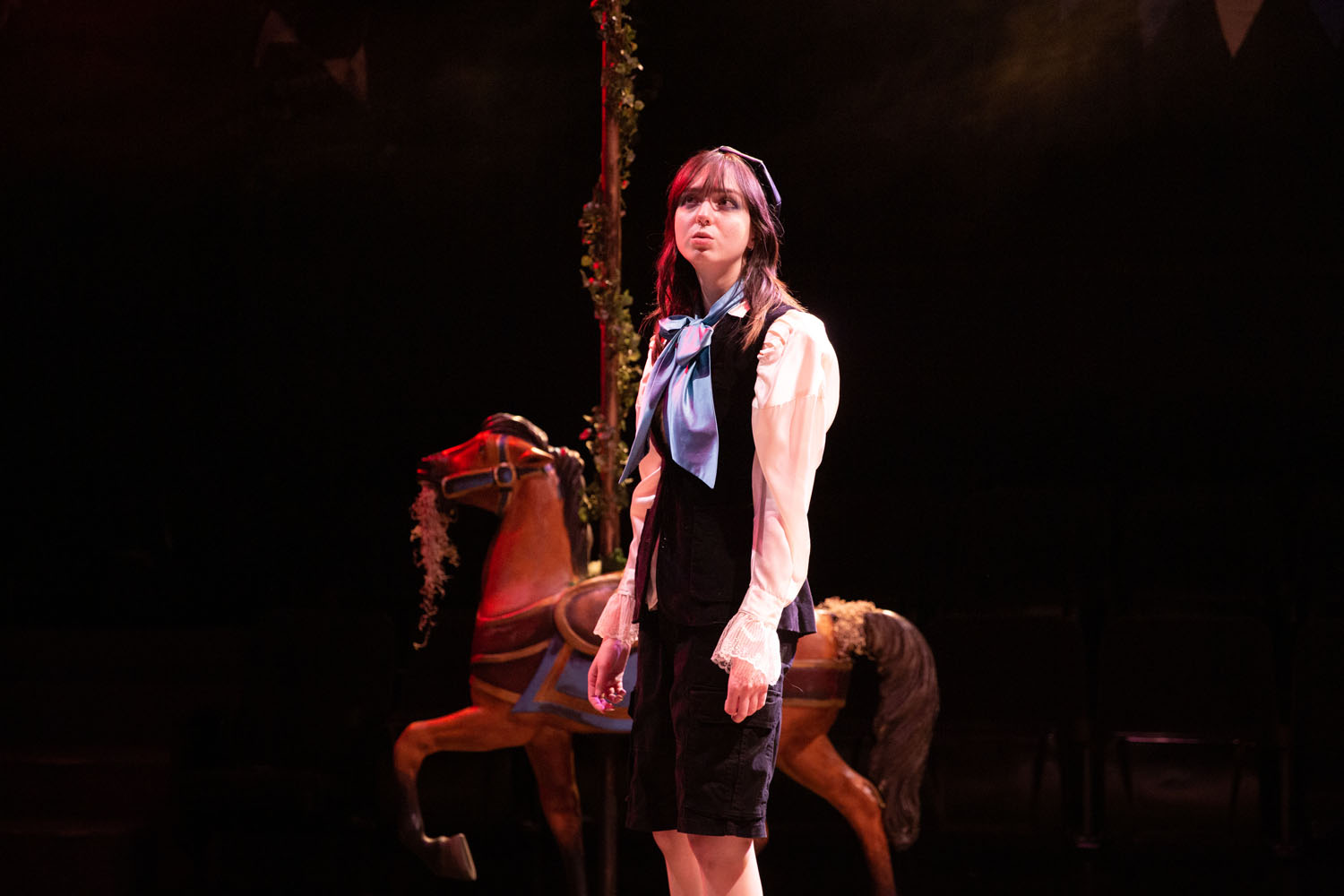 Caro Ciet as "Jaques"
Photo by Todd Collins

"Once the roles were cast, we had conversations about where the actors would like to go," said Smith. "With Caro, for example, we asked where they wanted to go as a nonbinary actor in a role that's traditionally male-identified."
"It's been a great opportunity to let go of the idea of conforming to a specific gender identity," said Ciet. "We're told as actors to keep our type in mind. We always have to be aware of that third-person perspective of what other people might be seeing, or how we're being received. Playing in this space has been very rewarding in terms of gender expression, and me being more aware of my own gender identity and how I would like to be seen. I think that's very in line with the show itself and what it has to offer."
The play's protagonist, Rosalind, is played by ATP student Camden Barrett, who also identifies as nonbinary.
"In the introduction to the Arden edition [of the play] there's a quote about Fiona Shaw as Rosalind: 'They appear not as a woman dressed as a man, but as herself — it's Shaw's personality that embodies both.' I thought, 'that's it,'" says Smith. "I need to give Cam space to follow their own instincts, to be a guiding force that informs how this world works rather than say, "this is what I'm looking for."' And that, in turn, helped me shape everything else. Cam's approach to Rosalind was so playful and expressive and bold and brazen, and I could just bounce off what Cam had created. It opened up the whole play."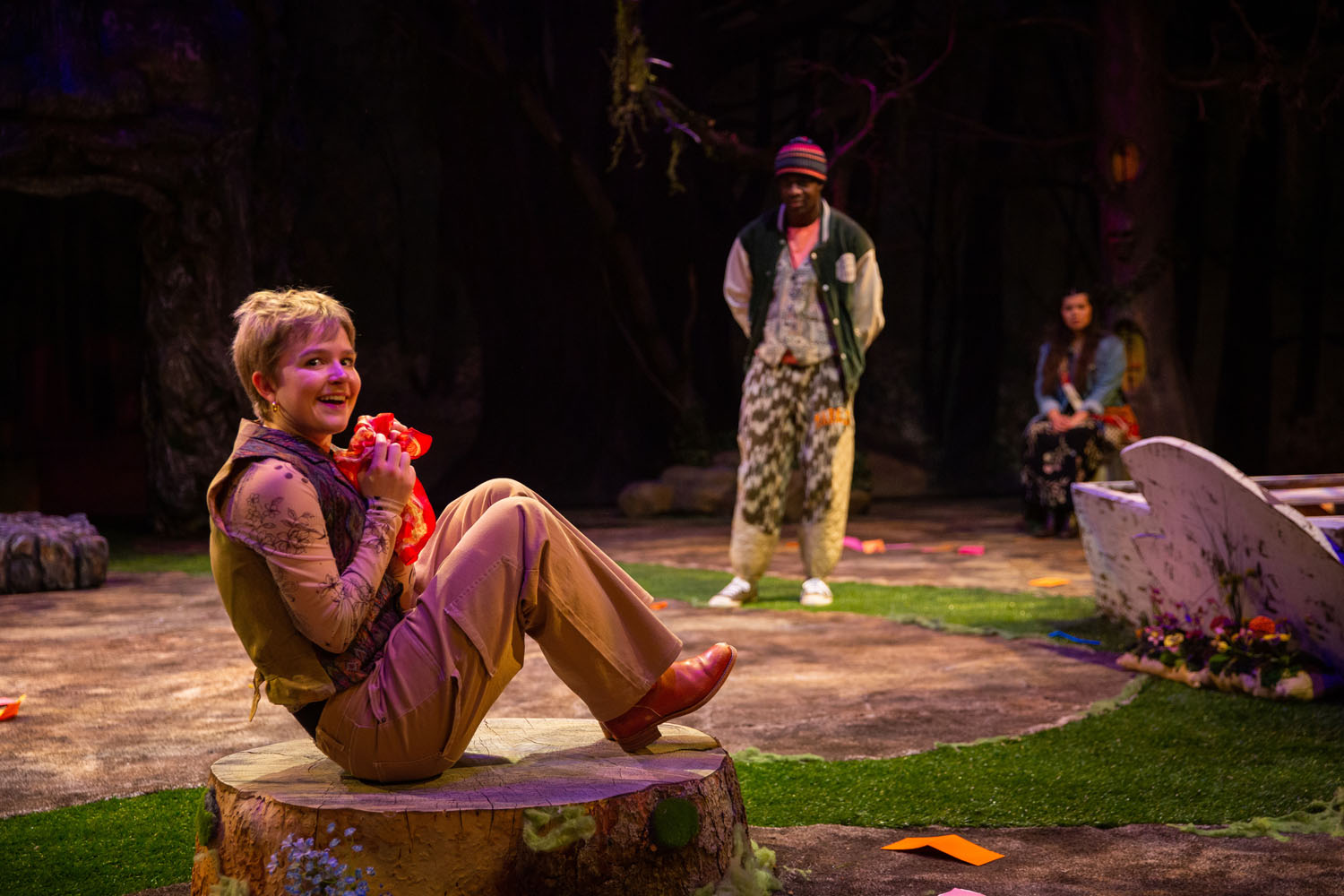 L-R: Camden Barrett, Tobi Okhimamhe, Abyanna Wood
Photo by Todd Collins

"I think it's one of the most vulnerable things I've done," says Barrett. "[Rosalind and I] are very similar in our journeys. Something [U Theatre professor] Sarah Shippobotham helped me understand is that, in Shakespeare, you can bring more of yourself to a character than most plays allow. [Actor] Michelle Terry used the Walt Whitman quote 'I am large. I contain multitudes' as a way into Rosalind. That's something I've been learning to live by: how do I expand in the world rather than conform to the world?"
One response might be to create a world of one's own, a challenge the company and creative team have met with remarkable creativity and cohesiveness. "For me, As You Like It is a story of love in all its many different manifestations," says Smith. "That's all it is for me. When I was imagining the Forest of Arden, I was thinking visually about what would be a fun playground. The image I was drawn to was the carnival ride, 'The Tunnel of Love.' What if Arden were an old amusement park that's been abandoned, where the forest has crept through and taken over?
"I gave some images that inspired me to [Set Designer] Kaitlyn [Crosby], along with this quote from the UK National Trust:
Perhaps the most famous forest in Shakespeare's canon is the Great Forest of Arden in As You Like It. First performed in 1599, As You Like It presents a revolutionary rural court held in an ancient woodland. This fantastic forest is full of surprises: girls dress as boys, fools offer wise advice, royal courtiers behave like Robin Hood's band of Merry Men. The forest is clearly a work of fantasy. When the characters encounter a lioness at the end of the play, we see that this is a storybook wood rather than a real place.
We wanted to create a storybook world that represents the themes of the play — love, tomfoolery, magic, identity — and make it a place where people are able to explore their own identities and express them more freely. Kaitlyn took all of this and ran with it."
 The striking set is complemented by equally strong design choices in costumes, lighting, props and sound — including original songs composed by sound designer Lilly Stone. "I prefer having fun wherever possible and making a mess," Smith replies when asked about the factors that yielded this result. "And the right people were in the room at the right time, with permission to say, 'let's break rules and question everything."
"The process of discovery always starts with questions," Ciet adds. "You have to have that initial curiosity and sense of wonder to learn about the people around you, and about yourself."
Barrett agrees: "In one song [by Sound Designer Lilly Stone], Rosalind sings, 'I'm who I want to be. We did just as we should.' I think that's a beautiful way of acknowledging an individual experience, but also of bringing the community together — the audience as well as the ensemble. What was meant to happen, happened."
 Production photography by Todd Collins
Focusing on joy and discovery doesn't lessen the responsibility that comes with the text and subject matter, however, and Smith is keenly aware of the connection between this production and recent developments. "It's been great to watch these young students who have something to say, and how they bring it into this story in a way that's playful, but still important and impactful. The royal court in As You Like It is a world of constraints and rules, and the rules aren't made for everybody. I think the two worlds in the play really reflect the world we live in today — especially now, with what's happening politically for people who express their gender through drag, for example, or how our trans community is being affected. One world is working to silence these people and these perspectives or eliminate them. That's what the Duke tries to do in As You Like It: create a world in which he has control, and if you don't fall in order, you're removed." says Smith.
Barrett acknowledges the difficulty of tangling with weighty issues — and elevated language — in a play that is, after all, a comedy. "I struggle when I hear stories being treated as lectures. And that's an uncomfortable thing to be asked to do as an actor. I connect most to joy, or love, and those are emotions that help me to follow a performer into another world. When I witness someone living a reality, I can really connect with the truth of the story. I hope that's what we're offering."
"It's such a fun show," adds Ciet. "It's really goofy, there's a lot of physical humor, but it's Shakespeare, so it's also dramatic. There are characters with real emotional depth, with very specific wants and desires. And when you throw a bunch of people like this together in a room or in a story, it becomes very much about mystery and the things that are happening underneath the conversation — but in a playful context, of course. It's a comedy."
"Shakespeare is intimidating," says Barrett. "The language is daunting. But we're all students here. It was daunting for us, too, but now it's so much fun. I hope [audience members] lean into the parts that make them laugh, even if they aren't totally sure what everything means. And I hope they're willing to connect with us. I know interaction with performers can be terrifying, and if you don't want to connect, you don't have to. But one thing live theatre captures better than anything else is how it feels to be seen by another human being in real time. I think that's something really magical."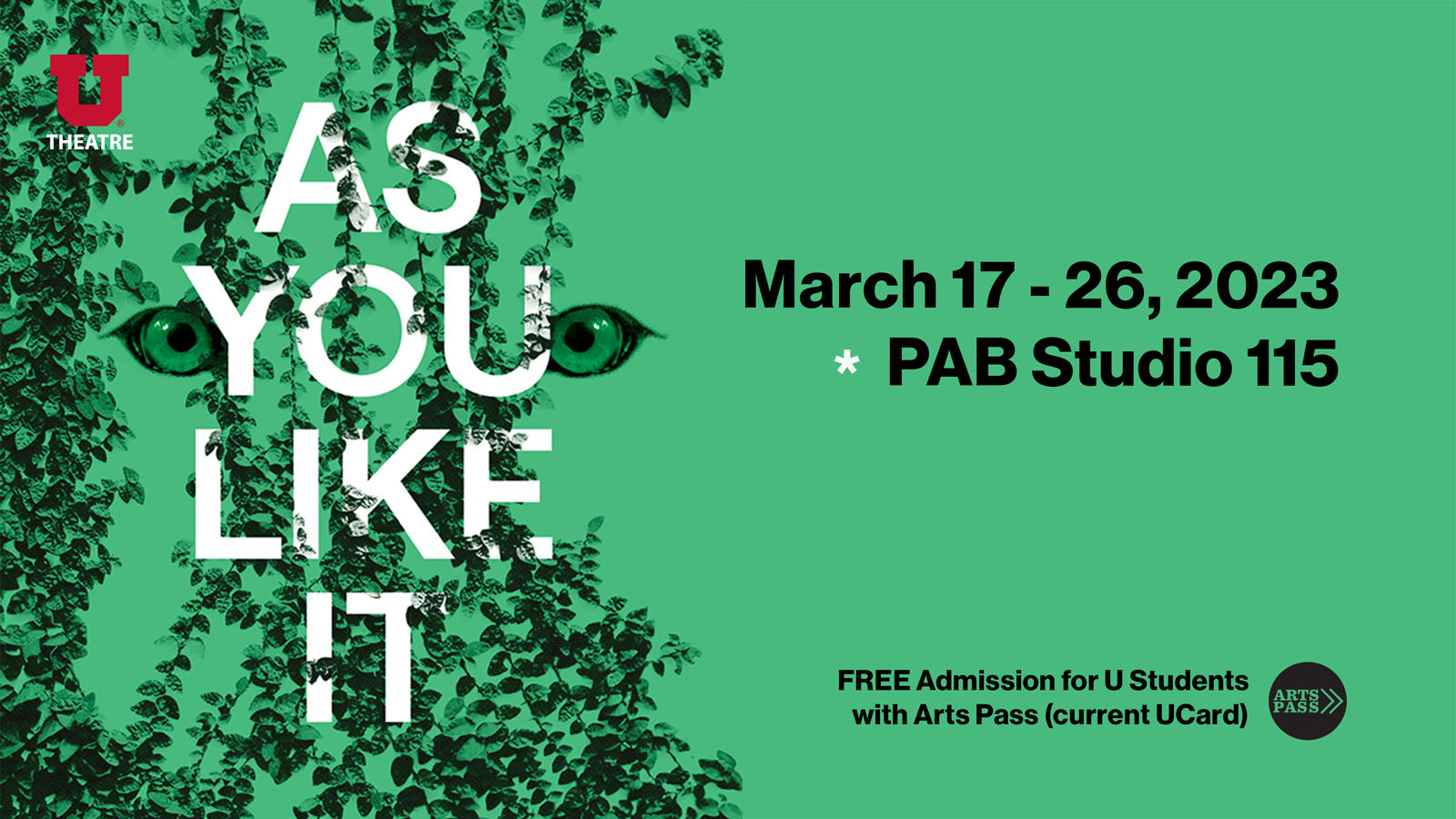 ---
---

AS YOU LIKE IT
March 17 - 26, 2023
PAB Studio 115
Free admission for U of U Students with Arts Pass (uCard)
Free single ticket admission for Utah high school students (valid ID required)

For group rates and discounts, email




For tickets and info, click here