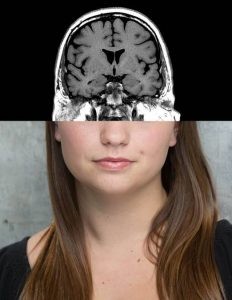 Cece Otto is a senior in the Actor Training Program and Student Advisory Committee President for the Department of Theatre. She won the 2018 College of Fine Arts Outstanding Undergraduate Researcher Award for the creation of her original piece, Hyperthymesia, which she performed at the Edinburgh Fringe Festival in August 2017. Cece was awarded a UROP grant two semesters in a row, allowing her to fund the project under the supervision of her mentor and Assistant Professor, Robert Scott Smith.
"Scott taught my acting class the second semester of my freshman year, and ever since then I have been enamored with his passion for the theatre and creative ideas. His talent as a theatre maker is incredible, and working with him was so delightful. I knew he had a vast background in devising work with his theatrical laboratory, Flying Bobcat, and decided to take the opportunity to absorb some of his wisdom. He pushed me to work harder, while allowing me plenty of room to grow on my own. I'm so grateful for the opportunity I had to spend time with him as a mentor."
Recent projects Cece has worked on include The Curious Incident of the Dog in the Night-Time at Pioneer Theatre Company, Harbur Gate at Salt Lake Acting Company, and Self Defense, or Death of Some Salesmen at the University of Utah. She is the Marketing and Outreach Intern at UtahPresents, and was chosen to be an intern at Pioneer Theatre Company this past fall. Additionally, she is a co-founder of WHO'S LOUIS?, a devised theatre company based in Salt Lake City, and enjoys being a "Big Sister" for Big Brothers and Big Sisters of Utah. She will be playing the part of Dabby Bryant in the Department of Theatre's upcoming production of Our Country's Good this April. She is grateful to her family, friends, and teachers for their endless love and support.
Congrats, Cece!
---
Theatre projects Cece has worked during her time at the U include:
Our Country's Good / Dabby Bryant / Babcock theatre The Curious Incident of the Dog in the Night-Time / u/s Siobhan/Voice 5 / Pioneer Theatre Co Hyperthymesia / Performer/Creator / Edinburgh International Fringe Festival (Scotland) Hyperthymesia / Performer/Creator / 59E59 East to Edinburgh Festival (NYC) Harbur Gate / Marine / Salt Lake Acting Company He Married a Tigress / Performer/Co-Creator / Eccles Broadway Theatre Grand Opening Self Defense, or Death of Some Salesmen / Lu / Studio 115 Apt. 404 / Performer/Co-Creator / Great Salt Lake Fringe Festival The Three Sisters / Irina / University of Utah Residue / Performer/Co-Creator / Kennedy Center ACTF Region VII Numb and Awake / Performer/Co-Creator / Dark Days 24 Hour Theatre Festival (1st Place) Whispering Gallery / Performer/Co-Creator / Kennedy Center ACTF Region VIII