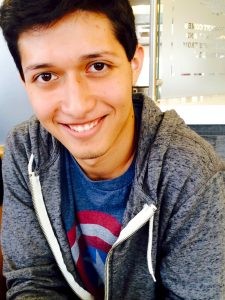 Congratulations to Martin C. Alcocer, our 2018 Department of Theatre Outstanding Student!
Martin was born in Mexico City and grew up in Salt Lake City. He is a dedicated and compassionate leader in the department who is graduating with a BFA in Stage Management.
During his time in the Department, Martin has served as stage manager for many productions in our department and in local theaters. Most recently he served as stage manager for Steel Pier in the Marriott Center for Dance and assistant stage manager for Newsies! at Pioneer Theatre Company.
Martin also has a passion for lighting design and has done the lighting design for Love's Labour's Lost (Studio 115), How Long Can You Stand… (Sackerson and Flying Bobcat), and Our Country's Good (Babcock Theatre). He was the assistant lighting designer for HIR, Streetlight Woodpecker, and Harbur Gate at Salt Lake Acting Company.
The Department of Theatre faculty nominated Martin because of his commitment to the department, his fellow students, and the theatre community. He has taken leadership several years in a row by organizing and mentoring other students to go to the USITT (United States Institute for Theatre Technology). He describes his work as "high quality work that is achieved and demonstrated through collaboration, strong communication, and the understanding that we are all human." He is a recipient of the Elizabeth Warner Scholarship, the Salt Lake Acting Company Scholarship, and Fine Arts Advisory Board Scholarship.
---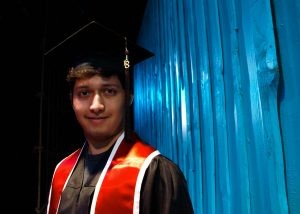 During his time in the College of Fine Arts Most memorable moment: I've had many memorable moments and it is not easy to pick one. Out of all the things I have enjoyed during my time in the College of Fine Arts, my most memorable moments are those in which I had the opportunity to create and collaborate with my peers. There are two times in particular which took place over a period of a few weeks: one was during the Department of Theatre's production of Hello, Dolly!, and the other was during the production of Steel Pier. Both are memorable for similar reasons. They were both fairly large productions, and because of the large scale, they were both high stress. Despite this, everyone in the room was committed to creating a great production. The experience I gained from each show was immense, and the memories created are unforgettable. Having the opportunity to work on these shows will be of the most memorable.
One thing you learned at CFA: During my time in the CFA, I learned about the power of networking, and the importance of balance. In this industry, networking is critical. The arts are often times heavily reliant on who you know. Having this knowledge early on has definitely aided me as I progressed through undergrad and started to build my network in Salt Lake and around the country. The other lesson I have learned is the need for balance. Even though I love what I do and am fortunate enough to be able to work doing what I love, I learned that only working was not healthy. You have to be able to step back and do something else, like spend time with family or friends, or have a hobby that is not related to work. Having learned this has greatly improved my stress levels, and I also feel like it has helped me better my craft.
What Inspires Martin A main component from where I find my inspiration is through the reactions that I, along with everyone else I work with on a project, are able to evoke from an audience. With theatre, or any other type of performance art where I have been fortunate enough to work, I have been able to see and hear the impact that we, as artists, have on people's lives. Whether we take them away from their worries and stress through a production, or we are able to spark a conversation and debate, what I, and everyone in the arts is able to do, has an impact. Knowing that I have a part of this is what inspires me.
Accomplishments While I was in the College of Fine Arts, I have had many fantastic opportunities. Within the Department of Theatre, I have worked, in some capacity, on nearly all of the productions whether it was as an electrician, light board programmer, or last-minute help. I also assistant stage managed and stage managed eight productions. I have been able to work at professional theatre companies, such as Salt Lake Acting Company and Pioneer Theatre Company, where I started in more entry level positions, like light board operator, and worked my way up to assistant stage manager on larger productions, such as The Count of Monte Cristo at PTC, or Saturday's Voyeur at SLAC, where I even spent some time in the role of Stage Manager. I have also interned with Utah Opera on their production of Moby Dick. In addition to stage managing I have also assistant lighting designed at SLAC on Streetlight Woodpecker, Harbur Gate, and HIR. For the department, I designed lights for Love's Labour's Lost and Our Country's Good. I currently work for Salt Lake County Center for the Arts as an On-Call Technical Director where I work at their various spaces, such as the Rose Wagner Performing Arts Center, Capitol Theatre, and the new Eccles Theatre. In this position I ensure that their policies are followed, provide technical help, and verify that everything is done safely. Through this I have been able to interact with local art makers as well as with Broadway tours like, Something Rotten, An American in Paris, and Hamilton. Nationally, I have been a part of groups within the United States Institute for Theatre Technology (USITT), which is the largest organization for theatre, entertainment, and performing arts professionals involved in the areas of design, production and technology. I was a part of the Gateway program, which aims to promote equity, diversity, and inclusion in the industry as both a mentee and a peer mentor, and I was also a part of the Stage Management Mentorship Program. In the Stage Management Mentorship Program, I, along with twelve other students or young professionals from around the country and Mexico, was paired with a mentor who gave me the opportunity talk to and network with other stage managers who have worked on touring musical productions and opera, as well as with the Walt Disney Company, Cirque du Soleil, and on events like the Super Bowl. I was also assigned to stage manage the Keynote Address that opened the annual conference in Fort Lauderdale, FL this past March. I have also served as president of the University of Utah's chapter of Young Designers and Technicians, a club which secures funding, and organizes the trip to send students to the USITT conference. conference. Through this club, we have sent between eight to fifteen students, each year to attend the conference.