Ash Patlan on the left in "Halfway" by Emily Schwend
Tell us about yourself: Name, where you are from, what theatre emphasis you did, graduation year, what you do and how you got into your field of work? Hi! I'm Ash Patlan. I'm from Sandy, Utah, and I graduated from the Actor Training Program in the Spring of 2018. I'm currently acting in the Professional Training Company at the Tony Award-winning Actors Theatre of Louisville. As a member of the Professional Training Company, I've been able to perform in many shows put on for the community of Louisville, Kentucky, and have been able to dive headfirst into the professional world of new works. In my time at Actors Theatre, I've originated a role in the world premiere of a site-specific new play by celebrated Humana Festival Playwright, Mara Nelson-Greenberg; I've performed a fully produced run of my own original work on the Actors Theatre Stage; I've played Petunia Fezziwig in the 43-performance run of Louisville's traditional classic, Fifth Third Bank's A Christmas Carol; and I am about to start rehearsals for the world premiere of the new play, We've Come To Believe, that will be featured in the 43rd Humana Festival of New American Plays. I was first introduced to Actors Theatre when I was a junior in the ATP, as we auditioned for the Director of the Professional Training Company during his recruitment trip to the U. I completely took advantage of the fact that this industry professional was coming to Utah -- just to audition and meet us -- and I used that time to really foster a good professional relationship. I made sure I sent thank you emails after he left, that I kept in contact with him from time to time, and that I auditioned for him again when he came back my senior year. It worked. After I auditioned for him again my senior year, he immediately recognized me from my video submission when I formally applied for the company and the rest is history.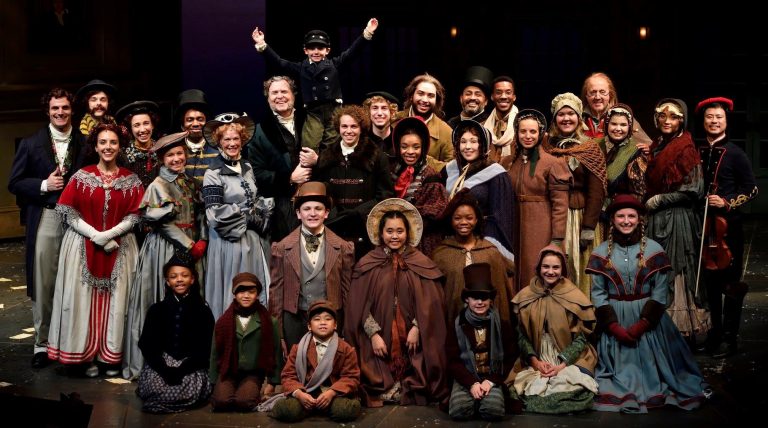 Fifth Third Bank's A Christmas Carol" at Actors Theatre of Louisville.
How did your experience in the U's Department of Theatre help you as a professional? There is no way in the world that I would be where I am today without the things that I gathered from my time in the ATP. Being in this program gave me all of the tools necessary in order to survive and succeed in this immensely difficult field. The quality of the education that I received from the ATP is of such a high quality that it easily rivals anything I could have ever learned from going to any acting school on the East Coast. I daily use the warm up techniques that I've learned from all of those Voice and Speech and Singing for the Actor classes; I meditate and focus myself and the characters I become before, during, and after stepping out on stage with the skills I've obtained from all of those Movement and Butoh classes; and I tackle any script and balance the maths and the humanity of the text with the mastery I've acquired through through the years of Shakespeare and Acting classes at the U. Honestly, I am so glad I went there.
What is your favorite Utah memory? I miss everything about Utah, but I especially miss the U. My favorite moment was the last Finals Week of my senior year and seeing all of my classmates and friends from all 4 graduating classes perform . I thought it was really special to go to each person's final and get to see them in completely in their element and get to cheer them on. I also really liked getting to perform my senior project, MAYFLOWER, and I felt extremely supported by my classmates, friends and faculty in the audience. It became such an important moment for me to create and perform my own work and it really gave me the courage to keep working on it. I eventually went on to further develop MAYFLOWER at Actors Theatre and got to perform a run of it on the same stage where plays by Obie Award-winning playwright, Lucas Hnath, have first premiered. Honestly, what a special time to get together to celebrate one another's work -- it really is magical.
What advice do you have for recent grads? My advice for recent grads is to hit the ground running as soon as you receive that diploma. DO NOT GET LAZY. Have a set of goals of where you want to go and what you want to do and hustle like your life depends on it. You literally have everything you need to succeed, so if you want it, you can make it happen. Research everything, stay in touch with your contacts, be prepared, stay hungry, and stay humble. You'll be surprised where you just might end up if you do.